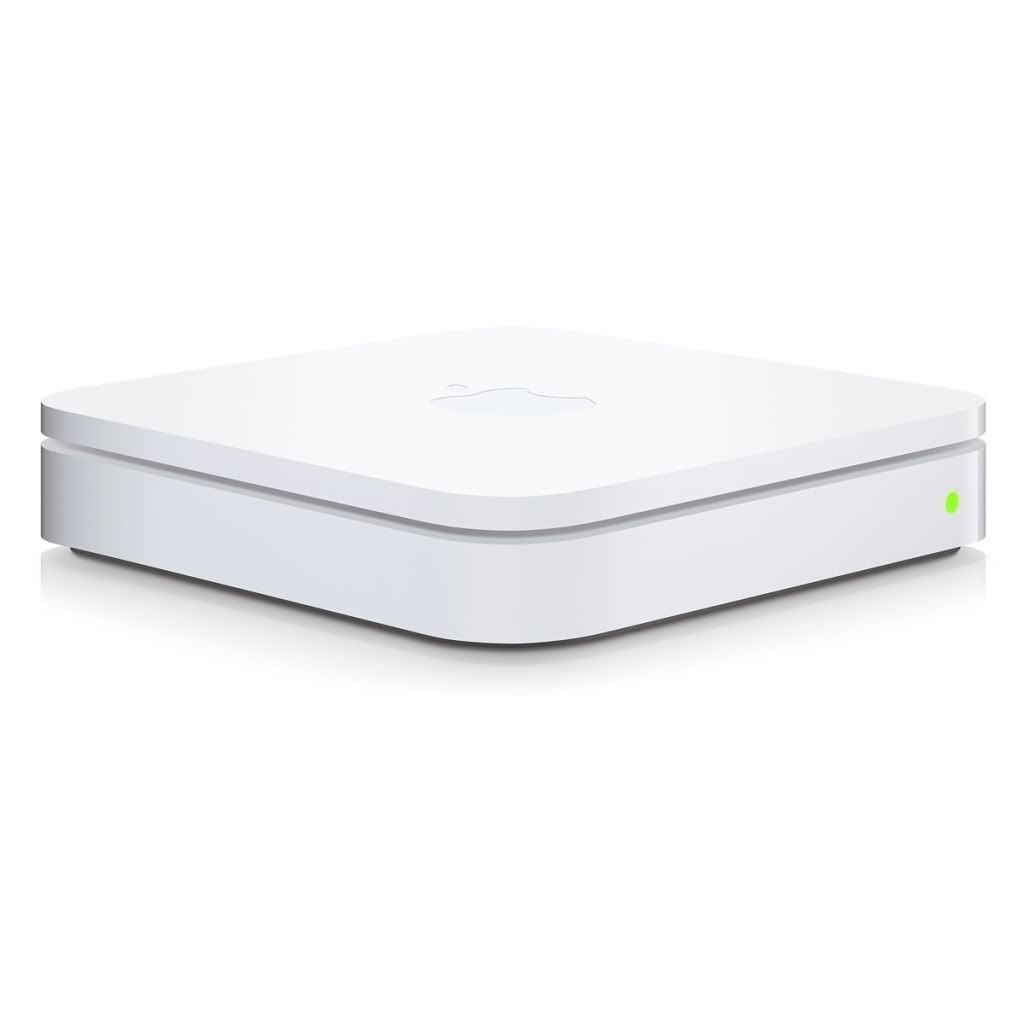 I've spent most of Christmas Day trying to figure a way out of this mess. I even downgraded my old Powerbook G4 to Panther, only to discover that it--initially--had no support for WPA security (doing the normal upgrades to it now via Ethernet). Not sure why it seems that every time I buy a new piece of Apple gear, it doesn't cooperate very well with older Apple gear. I understand that time moves on (and Apple wants us to as well), but one expects things like basic wireless in a working Mac to continue working with newer Apple wireless routers. But no.
I initially thought the problem might be my new WDS setup, but that's not the case. The kernel panics persisted, whether I disengaged WDS or not.
The Airport Extreme Base Station in its current firmware incarnation (7.5) causes kernel panics on ALL wireless clients running Tiger 10.4.11. This is confirmed by multiple users on the Apple Support Boards:
My Apple Tech confirmed (early November) that there is a known problem with the new Airport Extreme Dual Band Base Station causing kernel panics on computers running Tiger (only when connecting wirelessly via an Airport card -- not when connected via Ethernet cable). Apple Engineering has been notified and has not -- as yet -- released a software update to Tiger. Based on some customers' reports, we tried disabling the Guest Network on the base station, but that didn't work for me. Has anyone figured out a work-around besides 1) the ethernet cable and 2) upgrading to Leopard?

[From Apple - Support - Discussions - Kernel Panic when Running Tiger ...]
One user managed to get Apple to send him a Leopard install to address the issue:
Here's my experience. Ran two iMacs with Tiger 10.4.11 and a new iMac Intel Core Duo with an Airport 801.g Extreme. Alls well. I upgraded to an Airport 801.n and all **** broke loose with Unresolved Kernel Traps (UKT) on both Tiger machines. I managed to obtain Leopard from Apple and will upgrade each Tiger machine a couple of days apart to be sure I don't have any more UKTs. Then I will reinstall the Airport 801.n and see what happens. If I can believe what Apple Support has told me my problems should be solved. I should know by end of this coming weekend.

[From Apple - Support - Discussions - Kernel Panic when Running Tiger ...]
So I put in a service call to Apple and spoke with a rep today; the rep didn't offer a Leopard install like they did for the other user, and they didn't even admit that there was a known problem:
No dice. Just got off the phone with Apple and their solution for me was to go into the Apple Store. He said it was a computer issue...not the AEBS. I even brought up this thread (i.e., Tiger incompatible with new AEBS) and that other users said that Apple had acknowledged this problem. He said he had not heard that and that it was my computer?

Keep in mind that I told him that both my G4 machines are running Tiger (Powerbook and Mac Mini) and both are kernel panicking with the new AEBS.

So, I obviously didn't get the good support that you received...

[From Apple - Support - Discussions - Kernel Panic when Running Tiger ...]
I've basically tried everything (including doing Leopard installs using Target Disk mode), and nothing is really working (the G4 versus Intel architecture creates problems--i.e., the GUID versus APM). I either must get a Leopard Retail disc from Apple or wait for them to officially acknowledge the problem and issue a firmware update. Arggggghhh! My Powerbook is now running 10.3.9 (Panther) after the updates and is doing fine on the new AEBS, so this PROVES it's Tiger that is not compatible with the new Airport Extreme Base Station (802.11n). The Mac Mini is dead in the water at the moment in terms of wireless connectivity (I have the Airport turned off...and no more panics). I have ordered some cheap Cat-5 cable, which should be here soon and keep the Mini running until the firmware update shows up. Apple, your users really shouldn't have to go through such nonsense.
FOLLOW-UP on 26 DEC 2009:
As a follow-up, my issues were solved by installing Leopard on my G4 machines, which was not easy. See my post below on the
Apple Discussions thread
:
I can confirm now--as have others here--that it is definitely the Airport Extreme Base Station (802.11n) that is causing the kernel panic problem with Tiger. It will also not cooperate with Panther 10.3.9, IF you install the AirPort Extreme Driver Update 2005-001 update:

http://support.apple.com/kb/DL426

I downgraded my Powerbook G4 Aluminum 15" to Panther and had it working well at 10.3.9 until I installed the above driver update, so this driver (or some code within it) is the culprit; obviously, it hung around in Tiger but changed in Leopard and Snow Leopard (hint, hint, Apple).

I have now managed to update my old G4s (through much effort) to Leopard and both are cooperating nicely now with the Airport Extreme Base Station. I suspect Apple will update the driver eventually, but if you're having issues...go back to Panther (w/o the aforementioned driver update) or upgrade to Leopard if your system will install/run it.

FWIW, I installed Leopard on my old G4 Mac Mini (with 512 MB RAM) using Target Disc mode from the Powerbook running the install DVD. Leopard would not install any other way on that machine. Good luck all!

[From Apple - Support - Discussions - Re: Kernel Panic when Running Tiger ...]